Sarajevo the City of Film of UNESCO and the City of Sarajevo, commemorating City Day on April 6th, present to the audience the "Sarajevo City of Film" for free – a Marathon of Short Films shot in Sarajevo. The films will be shown in the cinema Meeting Point in Sarajevo, on Thursday, April 6th from 12:00 to 22:00, with free entry for all visitors. Anyone that comes to Meeting Point cinema in that period will have an opportunity to enjoy a program of short films shot in Sarajevo – an exclusive choice of films from the project "Sarajevo City of Film".
The Marathon of Short Films shot in Sarajevo, commemorating April 6th, City Day, as a gift to the audience was organized by Sarajevo the City of Film of UNESCO and the City of Sarajevo, in partnership with the Meeting Point cinema.
"Sarajevo the City of Film" is a project of Obala Art Centar – Sarajevo Film Festival, started with the mission to discover, offer support, and promote film creator talents, as well as to enable their cooperation and experience exchange in creating a joint film. From 2008 to today more than 300 young directors, screenwriters, producers, actors, videographers, and editors have shot their short movies in Sarajevo within the scope of this project. Some of the films made as part of this project have had an extraordinarily successful festival life and have achieved international success.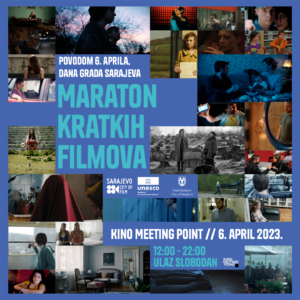 In the program of the Marathon of Short Films, you will have the opportunity to watch 33 films for free in the Meeting Point cinema, which include: "Liberation in 26 Pictures" (Ivan Ramljak i Marko Škobalj), "Alena's Journey" (Karoly Ujj Meszaros), "Shopping" (Alen Drljević), "Orange Blanket" (Matija Debeljuh), "See You in Sarajevo" (Vanja Sviličić), "Sarajevo Spring" (Nikolina Barić), "Waiting" (Daniel Béres), "Museum of Broken Relationship" (Iulia Rugina), "Pink River" (Zacharias Mavroeidis), "Woman in Purple" (Igor Drljača), "Frigidance" (Kelmend Karuni), "Reverse" (Georgis Grigorakis), "Smart Girls" (Hana Jušić, Sonja Tarokić), "The Ticket Collector" (Catalin Musat), "Bodily Function " (Dane Komljen), "Edina" (Nóra Lakos), "Posthumous" (Cenk Erturk), "Scenes with Women" (Nikola Ljuca), "Roundabout" (Orsi Nagypal), "Something Sweet" (Jelena Gavrilović), "Holiday at the Seaside" (Cristina Groşan), "Morning Prayers" (Konstantina Kotzmani, Katarina Stanković), "My! My! My little room!" (Barbara Vekarić), "Rain in Sarajevo" (Paul Negoescu), "The Tourist" (Ariel Shaban), "Ficus" (Andrey Volkashin), "Big Leap" (Zulfikar Filandra), "Route-3" (Thanasis Neofotistos), "The Sign" (Eleonora Veninova, Yona Rozenkier), "The Right One" (Urška Djukić, Gabriel Tzafka), "In Your Hands" (Maša Šarović, Sharon Engelhart), "Spit" (Neven Samardžić,  Carolina Markowitz), and "The Package" (Dušan Kasalica, Teodora Ana Mihai).
Enjoy the films, and we will see you in Meeting Point cinema on the Day of the City of Sarajevo!