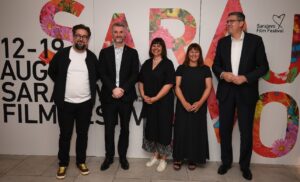 As part of the 28th Sarajevo Film Festival, at Cineplexx Sarajevo, Sarajevo UNESCO City of Film organized a reception "Promotion of Film Incentives in Sarajevo Canton – example of ILLYRICVM". Conversation was followed by the screening of the film ILLYRICVM by Simon Bogojević Narath, the first film that used the incentives for filming in the Sarajevo Canton.
Speakers at the reception were Sarajevo Film Festival Director Jovan Marjanovic, Sarajevo Canton Prime Minister Edin Forto, Sarajevo Canton Minister of Culture and Sports Samir Avdic, Croatian film producer Ankica Jurić-Tilic and Bosnian film producer Adis Djapo.
Prime Minister Forto and Minister Avdic spoke about the importance of introducing incentives for the City of Sarajevo and Sarajevo Canton. Producer Ankica Juric-Tilic and producer Adis Djapo talked about the importance of incentives for production companies in the region. They pointed out that these incentives had opened up additional opportunities for Sarajevo as a filming location.
Director Marjanović: "In addition to being a film festival, the Sarajevo Film Festival is a driver of the film industry development. Our goal for Sarajevo is to have a strong production sector, to generate production, attract foreign investments and promote best practices. The key element for attracting productions is the quality of professional film and TV crews. The incentives open up space for education, professional experience, new jobs and opportunities for young professionals to stay in Bosnia and Herzegovina."
Prime Minister Forto: "Investing in the creative industry means investing in the field that will not exhaust our limited resources, talent is not water or wood. The talent of local artists always came to the fore despite the negligence of the previous governments. Although it has always been obvious that the Sarajevo Film Festival builds a positive image of Bosnia and Herzegovina, images that Sarajevo sends to the world every August are beautiful and radiate optimism. The Festival boosts local and state budgets. We have decided to stop the wrong practice – this year the Sarajevo Canton Government has allocated historical financial amounts for film industry incentives and will continue to do it in the future."
Minister Avdic: "This type of incentives is a modality that is used across the world. In recent years it has been increasingly present in the countries of Southeast Europe, where the trend leaders are Croatia, Serbia and Hungary. Only three countries in the region did not have this type of incentive: Bosnia and Herzegovina, Albania and Moldova. Based on the best practices in Europe and the world, the current Sarajevo Canton Government and Sarajevo Canton Ministry of Culture and Sports have made new decisions and the plan for this year not only to increase the existing amounts for the creative industry but also to introduce completely new support mechanisms for this sector. For financing and co-financing national production, this year we plan to allocate 1 million BAM, which is a larger amount than before, while 2 million BAM will be allocated in the Sarajevo Canton budget for incentive funds as a completely new way of supporting film and TV production. This allocation of 2 million BAM in the Sarajevo Canton budget is for the refund of 30% for the funds invested in the production of audiovisual content on the territory of the Sarajevo Canton. Thanks to these incentives, the invested 2 million BAM will generate around 7 million BAM in the Sarajevo Canton from the private sector and foreign sources. With the teamwork of professional associations and film professionals, the rulebook was made, stating and explaining transparently and in great detail the criteria for the return of 30% of the funds invested in the production of film and TV content on the territory of the Sarajevo Canton."