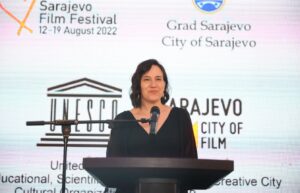 Today, on World Cities Day, Sarajevo marks the three-year anniversary of the prestigious title of Sarajevo UNESCO City of Film.
"We are honored that we are recognized as a City of Film and that we are a member of the UNESCO Creative Cities Network. This title is our responsibility and opportunity to use a great potential that Sarajevo has in the field of film. I am proud of the success of the Sarajevo Film Festival, our rich film history, film professionals and production that is widely recognized in Europe and the world" said the City of Sarajevo Mayor Benjamina Karic.
The Sarajevo UNESCO City of Film title means commitment that the efforts of the City Administration will always be directed towards continuous growth, development and promotion of cultural and film production.